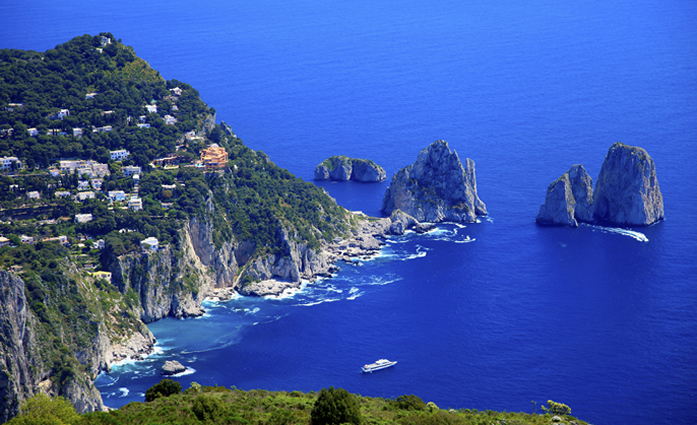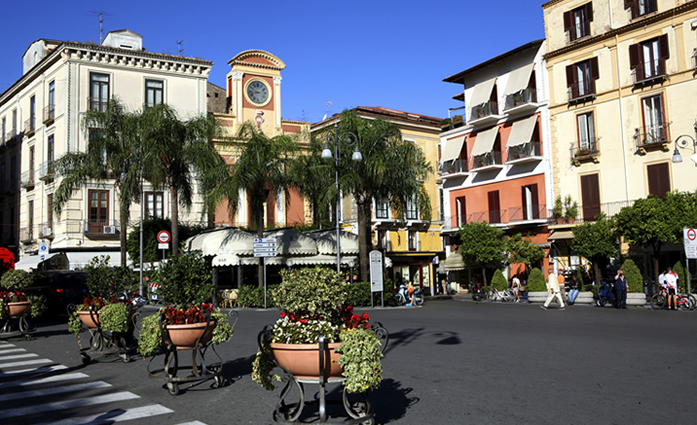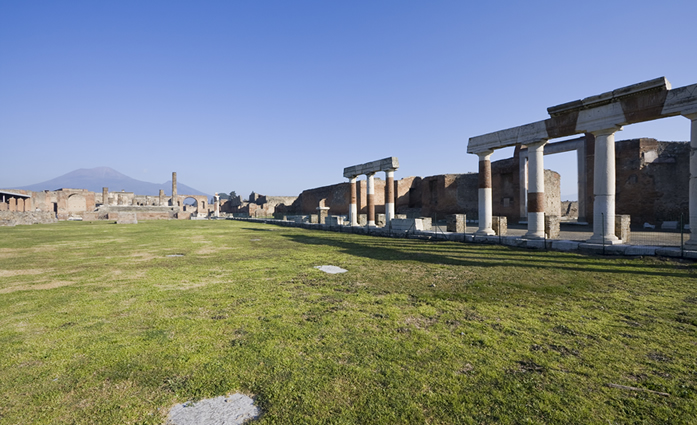 Capri
The world famous island is only 25 minutes, by hydrofoil far from Sorrento. On a visit to Capri in 29 b.C. Caesar Augustus was so truck with its beauty that he acquired it from the city of Naples. His successor Tiberius built here 12 villas, dedicated to 12 divinities of Olympus, the most famous is Villa Jovis. After the re-discovering of the Blue Grotto in 1825 by the german painter Alfred Kopish began the tourismous for the island. For a long time the island was the place for the writers and artists like Pablo Neruda, Norman Douglas, Marguerite Yourcenar and many more. The heart of Capri is the "piazzetta" (small square) also called "The world's living room". On the high part of the island is situated Anacapri, connected to Capri by a beautiful panoramic road. Some of the most important Capri sightseeings are in this village, like the Blue Grotta, Villa Damecuta and the church of San Michele.
Sorrento
Sorrento was probably built by Greeks but was dominated also by Siracusan, Samnities and Romans. The remains of temples, amphitheatre, villas and castles however testify that powerful resided here. The most important monuments are: The Cathedral, the Church and the cloister of St. Frances of the 13th century. the Dominova seat - the only remaining testimony in Campania region of the old noble seats and dates back to the 16th century. Very famous is also the Museum Correale, setup from a private foundation by the last discendants of an old sorrentine family. Sorrento is famous in the world also for its Limoncello liqueur ( a sweet spirits made with lemons) and for a lot of inlaid wood-works factories. Sorrento has two ports, Marina Grande which is a pictoresque fishing village and Marina Piccola, the commercial port with ferries and hydrofoils to go to Capri, Ischia and Naples.
Pompei
Romans took control of Pompeii around 200 BC. On August 24, 79 AD, the volcano Vesuvius erupted, buried the nearby town Pompeii in ash and soot, killing 20000 people, and preserving the city in its state from that fateful day. Pompeii is an excavation site and outdoor museum of the ancient Roman settlement. This site is considered to be one of the few sites where an ancient city has been preserved in detail - everything from jars and tables to paintings and people were frozen in time, yielding an unprecedented opportunity to see how the people lived two thousand years ago.